A day or two ago, Katie Grace did a #WIPjoy post all about her book Where Shadows Lie. IT WAS VERY COOL. Basically, I loved it so much that I decided to jump in and do a post of my own.
(If you don't know what #WIPjoy is, don't worry, I don't hugely either. XD Check out Katie's blog post though because she actually explains it. :P)
But loosely - it's a bunch of questions about your work-in-progress and I'm going to pick my favourites and throw some stuff around about my wee li'l novella A Sprig of Green.
Describe yourself and your WIP.
Me: an energetic, joke-teller, always looking for a laugh...Bare feet, outdoors, callouses on my left hand fingertips from musical instruments, always hungry. I don't even know how to describe myself. XD
WIP: A Sprig of Green, one young girl trying to save her father, one young man trying to save himself.
Your 1st inspiration for this WIP.
It started out because Kingdom Pen was having a Sci Fi themed month and I decided that I was actually going to submit something for once. So then in popped a random idea for a world with no plants and a girl who is looking for them. And it developed from there into a short story (which was then submitted to Kingdom Pen AND ALSO ACCEPTED and (after lots of edits) published *screams* READ IT HERE).
Would you rather: get trapped in your story for a week, or have your antagonist enter your own life for a day?
Can it be after the story is ended?? Because it has a happy ending and everything is all okay again, so I'D BE FINE WITH THAT PART. Before the story...not so much.
And antagonist in my life? No thank you, good sir.
What would your MC be like as an antagonist?
Okay so I have two MCs. Michayla -smol girl- and Braden -a young man. They are both VERY different characters.
Michayla would be the sweetest antagonist ever.
Braden would be confusing. He would have so many internal dilemmas that the hero/MC of the story just gave up and surrendered to him.
He's a fun character. (And technically is sort of an antagonist already, because 'antagonist' is the term for anyone who stands in the way of the plot, not necessarily the main villain.)
What would the antagonist be like as the MC?
VERY EVIL. He would be an exceptionally evil protagonist. XD Ruthless, willing to do anything at all (even deny his own family) to get to his goal.
A line you nailed perfectly.
I can't say that I nailed any line of this absolutely perfectly. BUT STILL. Some of the lines that I am the most proud of currently:
I am not worthy to be called a man.
Notes of paper money go fluttering everywhere like butterflies with broken wings.
There's always another chance in the world.
"The first leaf means hope."
Choose an ideal reading spot, food, drink, and music to go with your book.
Reading spot: outside on a warm (but not too warm) day, on the grass. Or, even better, a patch of clover.
Food: ohh this one is actually harder than I was expecting. *hums* How about honey jumbles (yes, I believe it's an Australian recipe (maybe?). Look it up and make them. You won't regret it.) because they're all happy and outdoors-adventure-y.
Drink: Chai tea. I can definitely see Michayla drinking chai.
Music: Rise, True Strength or Becoming a Legend - John Dreamer. Look them up on youtube if you've never heard them before. *hugs the music* But I'm also equally leaning toward having no music and just having the sound of birds and breeze in the background of reading because that also fits.
What's something you're still figuring out about this WIP?
A LOT OF IT.
I need to work out some details with Braden, and something *coughcough* slight spoilery detailish *cough* about him.
Also another character that I kinda ignored from about the midway point of the book. I need to work out what happens to them.
Plus a lot more, but those are the main important factors, I think. (Actually no, there's probably other super important things that I just can't remember right now. XD)
Would you rather: have tea with your antagonist, or be stuck in an elevator for 3 hours with your MC?
Tea is good. I'm not sure that having it with my antagonist would be good though. But still, I can imagine him being quite gentlemanly.
On the other hand, being stuck in an elevator with Michayla for three hours could be quite interesting. I feel like she has so many good thoughts on life and she's a very wise girl (though somehow naive at the same time?? I don't even know if that works, but she just...is.). We could get into some very deep conversations. Braden and me stuck in an elevator...hmm not so sure about that one though. :P
And there I shall leave it! :D Hope you enjoyed some random odds and ends about A Sprig of Green.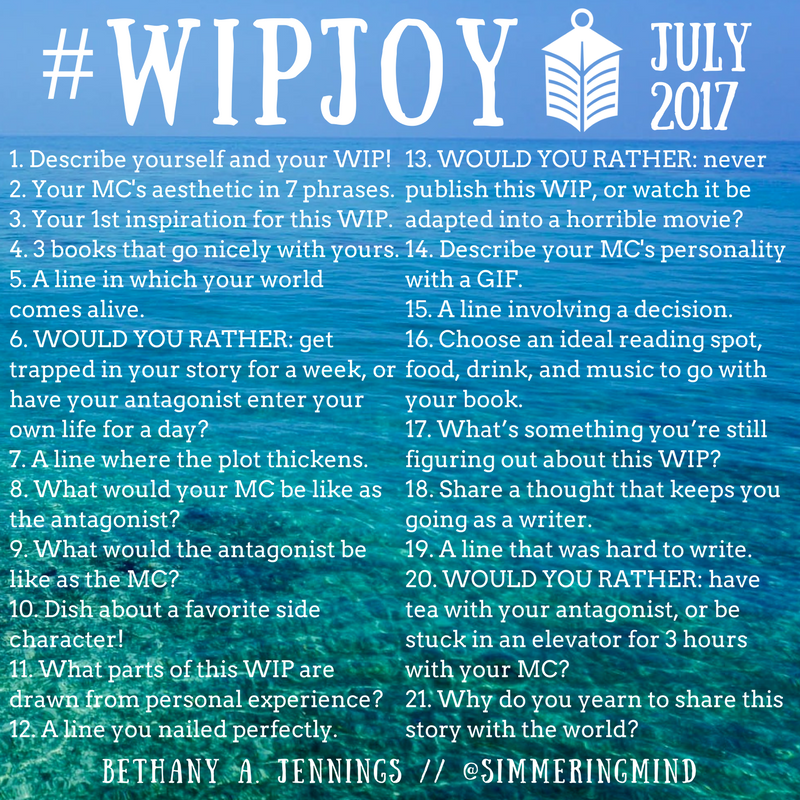 Here's the full picture of all the questions. NOW GO AND WRITE A BLOG POST. I wanna hear allll about your stories. Yes please. Even if you don't have a blog/don't feel like posting, just answer some of them in the comments because I'm a curious blueberry and I want to hear everything. :P
Would you rather have tea with your antagonist or be stuck in an elevator for three hours with your protagonist?